Intercambios Culturales of El Salvador
Intercambios fue un proyecto fundado en 1993 sin fines de lucro, fundado por artistas y profesionales de El Salvador, Estados Unidos y Europa para contribuir al proceso de paz en la post-guerra de El Salvador. Intercambios tenía como propósitos desarrollar lazos culturales, educativos y tecnológicos mientras que brindaba acceso público a nuevos recursos de informática. En 1999 la biblioteca de Intercambios fue trasladada al Museo Nacional de Exposiciones Salarrue en San Salvador, y los recursos tecnológicos y la infraestructura del Centro fueron donados a centros culturales en el campo.
Intercambios Culturales of El Salvador was a non-profit project founded i 1993 by Salvadoran, US and European artists and professionals to contribute to the peace process in post-war El Salvador. Intercambios seeked to develop new cultural, educational and technological links while providing public access to new information resources. In 1999 the Intercambios Library was transferred to the Salarrue National Museum of Exhibitions in San Salvador, and the technological resources and infrastructure of the Center were donated to cultural centres in the countryside.
Intercambios fue un proyecto basado en las siguientes premisas:
-Crear instituciones innovadoras dirigidas a los jóvenes es esencial para el desarrollo cultural y educativo en el siglo 21.
-El acceso público a los recursos culturales, educativos y tecnológicos es fundamental para el desarrollo social.
Intercambios was motivated by the following beliefs:
-Building innovative institutions for youth is essential for cultural and educational development in the 21st century.
-Public access to culture, education and technology resources is fundamental to social development.
Recaudación de fondos /
Fundraising
En noviembre de 1993, Intercambios fue aceptado como proyecto por el New York Foundation for the Arts, el cual provee administración y estatus legal para la recaudación de fondos en Estados Unidos. En 1994, Intercambios trabajó para recaudar fondos y donativos de libros y computadoras con el importante apoyo del Comité Internacional de Intercambios y de instituciones culturales de New York. El traslado de Intercambios a San Salvador, realizado en Marzo de 1995, fue posible gracias a una importante donación proporcionada por TACA International Airlines. El centro Intercambios se inauguró en San Salvador el 24 de junio de 1995.
In November 1993, Intercambios became a project of the New York Foundation for the Arts Management Services program, which provides administrative services and non-profit status enabling Intercambios in the U.S. During 1994 with the support of its International Committee and New York cultural institutions, Intercambios worked to raise funds and to obtain donations of books and computers for the center. In March 1995, Intercambios moved its office, personnel and resources to San Salvador, thanks to a major contribution from TACA International Airlines. The intercambios center was inaugurated in San Salvador on June 24th, 1995.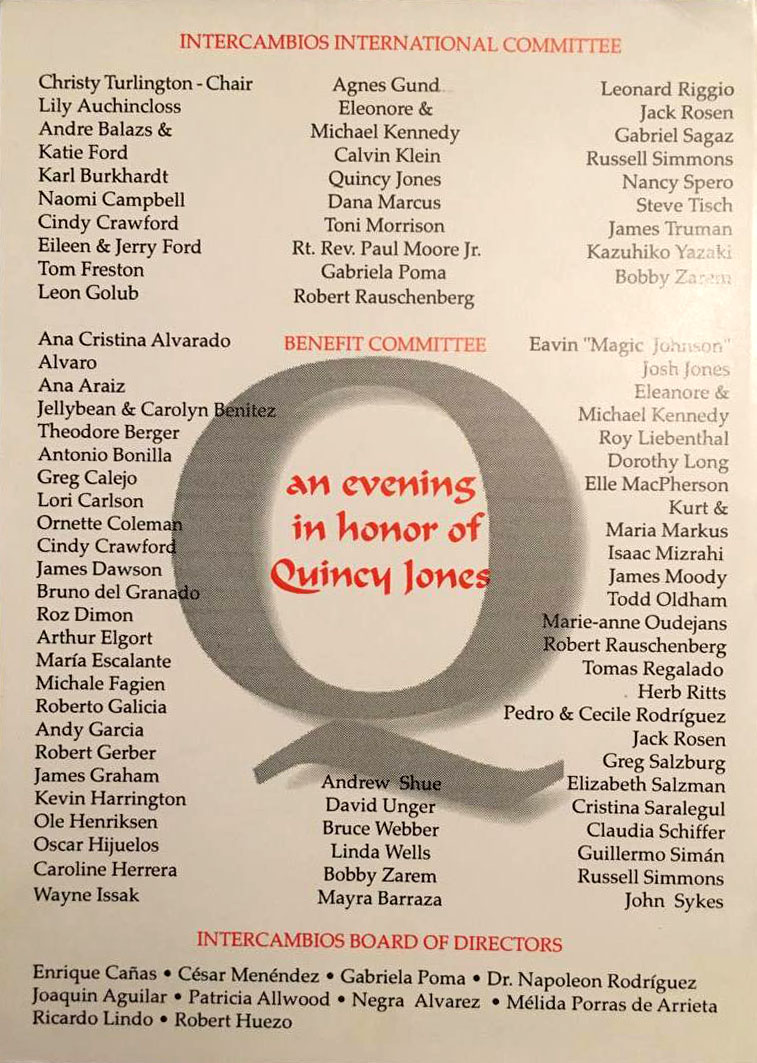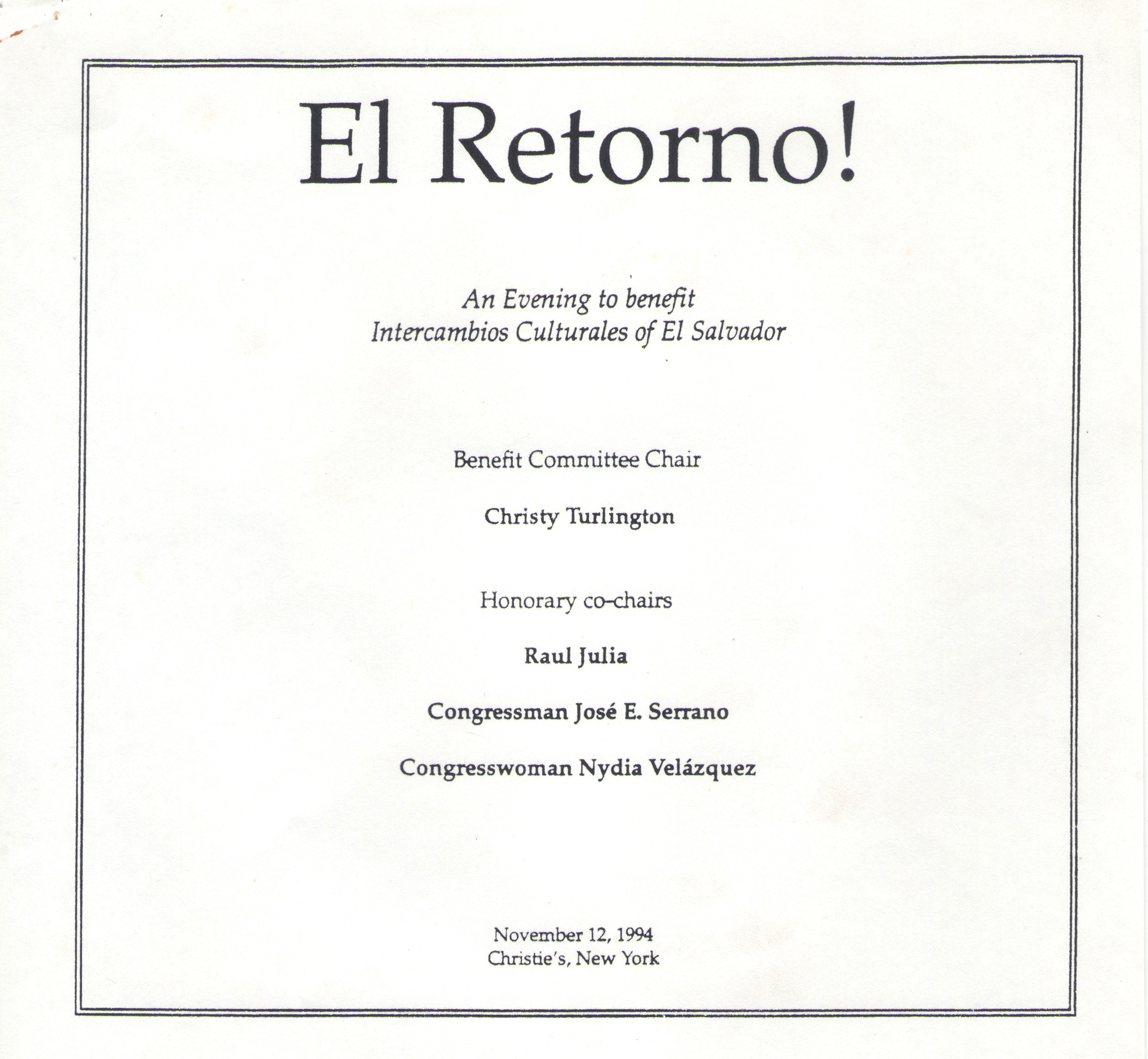 Fiesta y subasta de beneficencia
gala benefit and auction
The Intercambios fundraising strategy included building a dedicated International Committee headed by Christy Turlington and a strong donor base of support.
La estrategia de recaudación de fondos incluía la creación de un dedicado Comité Internacional encabezado por Christy Turlington y una fuerte base de donantes de apoyo.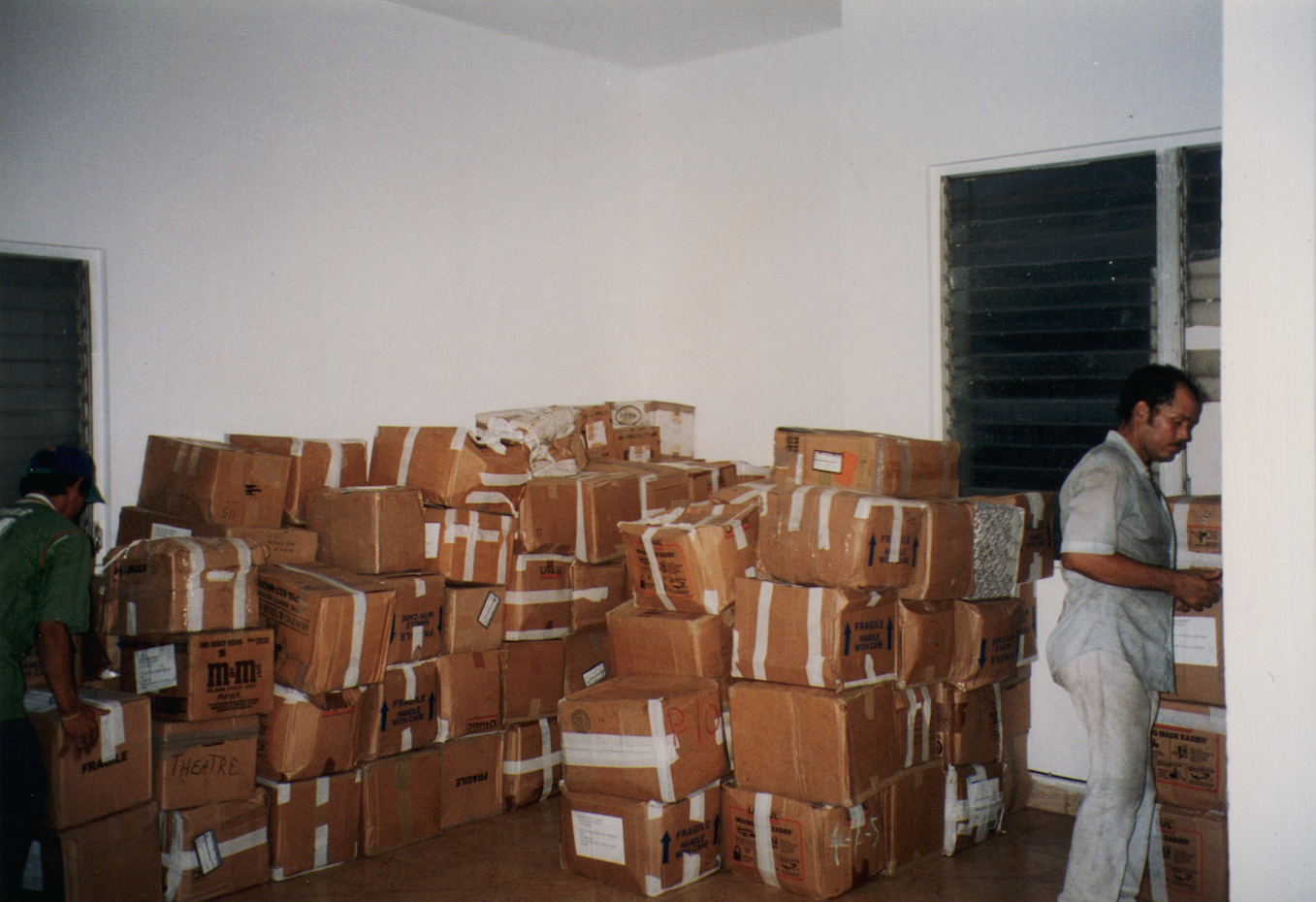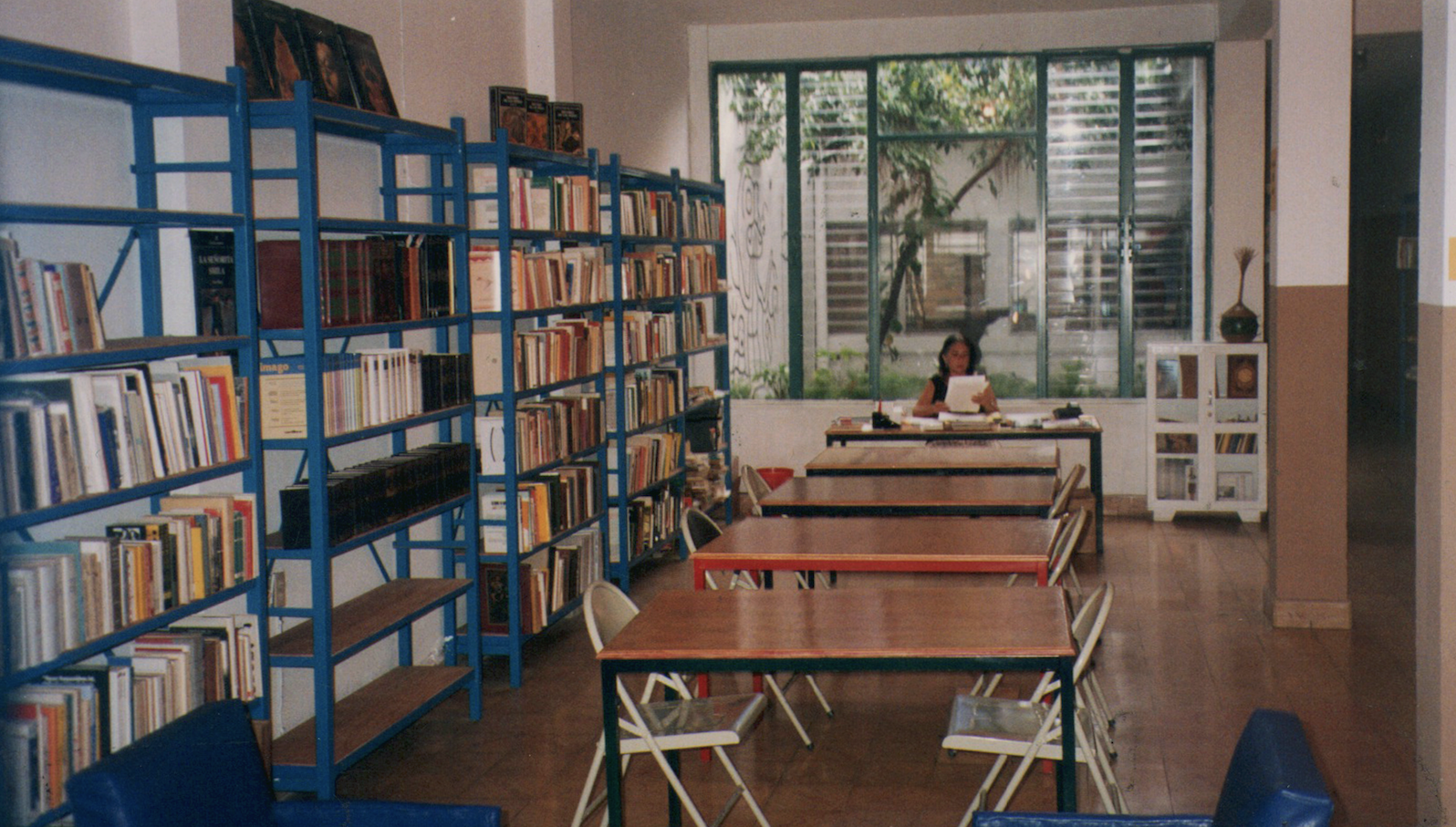 Donación de libros /
Book donation
La colección bilingüe para todas las edades cuenta con mas de 25 mil publicaciones de artes, literatura, historia, ciencias y tecnología donados por individuos e instituciones de alrededor del mundo.
Collecting over 25,000 donated books in Spanish and English and acquiring a solid Spanish language core collection for the Intercambios library at the November 1994 Guadalajara book fair.
Fiesta de inauguración / Opening party
On June 24th, 1995, the Intercambios Center was officially inaugurated with a grand opening that included Intercambios International Committee members from the United States including keynote speaker Quincy Jones, MTV President Tom Freston and International Committee Chair, Christy Turlington. The opening featured an exhibition of 22 works by Robert Rauschenberg, Tribute 21, sponsored by Felissimo.
During the event, Intercambios contributed a substantial donation of books to the National Library of El Salvador which reciprocated with a contribution of books published in El Salvador. Intercambios also presented awards to Salvadoran artist Joalgar, who directed the children's art project in Soyapango, and to USIS officials, who facilitated the entrance of all donated material into El Salvador and sponsored librarian Roy Goodman's residence at the Intercambios library. Special awards were given to corporate supporters of the project, including Apple Computers and TACA International Airlines El Salvador. Underwriting for all related events was obtained from Salvadoran businesses and the opening was broadcast around the world by MTV.
El 24 de junio de 1995, el Centro Intercambios fue inaugurado oficialmente con una gran apertura que incluyó miembros del Comité Internacional de Intercambios incluyendo , Quincy Jones, como orador principal, el Presidente de MTV, Tom Freston, y la Presidenta del Comité Internacional, Christy Turlington. La inauguración contó con una exposición de 22 obras de Robert Rauschenberg, Tribute 21, patrocinado por Felissimo.
Durante el evento, Intercambios contribuyó una importante donación de libros a la Biblioteca Nacional de El Salvador, que intercambió con una contribución de libros publicados en El Salvador. Intercambios también otorgó premios al artista salvadoreño Joalgar, que dirigió el proyecto de arte para niños en Soyapango, y funcionarios de USIS, quienes facilitaron la entrada de todo el material donado a El Salvador y patrocinaron la residencia del bibliotecario Roy Goodman en la biblioteca de Intercambios. Se otorgaron premios especiales a los patrocinadores corporativos del proyecto, entre ellos Apple Computers y TACA International Airlines de El Salvador. El patrocinio de todos los eventos relacionados se obtuvo de empresas salvadoreñas y la apertura fue transmitida por todo el mundo por MTV.
Intercambios International Committee
Christy Turlington - President
Andre Balazs and Katie Ford Toni Morrison
Tommaso Buti Rt. Rev. Paul Moore Jr.
Naomi Campbell Gabriela Poma
James Cox Chambers Paul David Pope
Lauren Hamilton Chambers Robert Rauschenberg
Cindy Crawford Leonard Riggio
Eileen and Jerry Ford Jack Rosen
Tom Freston Gabriel Sagaz
Leon Golub Russell Simmons
Agnes Gund Nancy Spero
Eleonora and Michael Kennedy Steve Tisch
Calvin Klein Bruce Wasserstein
Quincy Jones Kazuhiko Yazaki
Dana Marcus Bobby Zarem
The following Foundations and Corporations have supported Intercambios:
Apple COmputer Inc.
Centro Apple
Caribbean Computer Exports
Fashion Cafe
Felissimo / Tribute 21 Foundation
Ford Models
General Service Foundation
Harper's Bazaar
InterAmericas Society for Arts and Letters of the Americas
Kunstadter Foundation
Maybelline
Mirabella
MTV Networks
TACA International Airlines
UNICEF
Prensa / press
"Intercambios Culturales of El Salvador: Opening the door to knowledge... This is an institution with the vision, innovation and know how to provide services to those people who want to begin exercising their right to freedom of expression in the digital world so that they can grow as human beings. " Prensa Gráfica 1995.
"Intercambios on the scene... The children are participating in a program that might provide them with an alternative to the life of poverty to which they are condemned... Helping Intercambios should be on the agenda of all those who love art and culture because it is a concrete way to educate for peace - Intercambios is doing something real that many others just routinely talk about.. Intercambios is showing us the real way to educate for peace in El Salvador." Diario Latino, August 23rd 1995
"We single out Intercambios Culturales as an important new hemispheric and private cultural initiative." Arteria Magazine, Guatemala April 1996.